Installing Crystal C/C++ on OpenSUSE 11
Home

Tips & FAQ

UNIX and LINUX Support

Installing Crystal C/C++ on OpenSUSE 11
Installing Crystal C/C++ on your system (GUI based method) :
STEP 1.

Right click on the Crystal C/C++ Installer : for example CrystalCRevsEvalSetup.exe.
The following dialog will be displayed :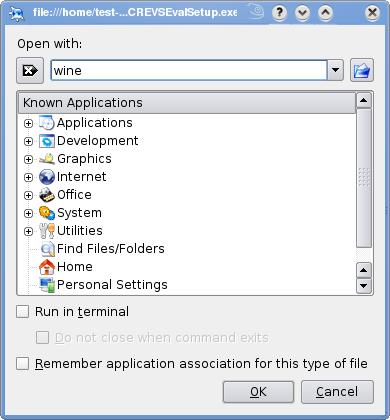 STEP 2.

In the Open with panel, type "wine" and then click

.
STEP 3.

Follow the on screen Instructions.
Installing Crystal C/C++ on your system (Command line method) :
STEP 1.

Open the Terminal Window
STEP 2.

Type wine CrystalCRevsEvalSetup.exe and press


Or
Type ./wine CrystalCRevsEvalSetup.exe and press

STEP 3.

Follow the on screen Instructions